Pozarevac awarded subsidies for self-employment
Under the agreements, which were signed in stateroom City buildings, 28 future entrepreneurs who want to start sostveni job, will receive this year by the city of 224,000 dinars Pozarevac and NES. They have already signed agreements with 26 individuals who received funding for open competition in May with two more contracts will be concluded later. Businessmen with future contracts were signed by the mayor Pozarevac Miomir Ilic and representatives of the National Employment and solemn act was attended by Deputy Mayor Vukica Vasic and the Mayor Zarko Pozarevac Pivac. The city is in the budget this year opted to about 5.7 million as an incentive to open independent stores in the area of production and craft activities and services, while the NES accounted for 840,000 dinars. According to the contest, which was announced last spring had begun 36 people and the money will get 28 of them.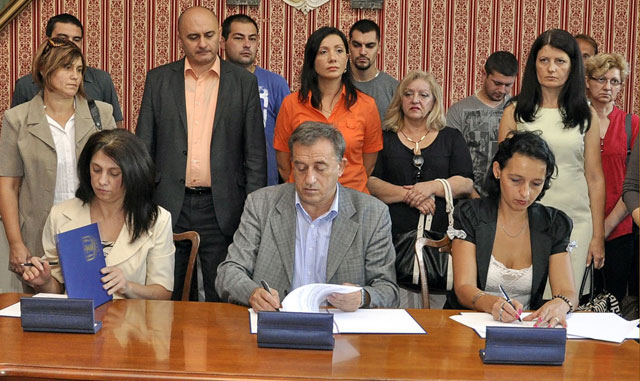 Among the approved requirements of most individuals who intend to open a hair and beauty salon, a bakery shop or fast food, computer servicing, a workshop for making souvenirs, jewelry or decorative objects and elements. Ana Tomic of Pozarevac says he has observed in a large number of senior citizens who are unable to independently care for themselves why he decided to open an agency for the care of the elderly. She says the subsidy means a lot. Work starts itself and then intends to hire more people.
Last year's budget funds for self-employment by 160,000 dinars gained 20 people. City in 2011. had no intention to 2.4 million and funded the employment of people with disabilities. -Unfortunately, no one took up the call, which is why the funds were diverted into subsidies for self-employment, she said at a press conference Deputy Mayor Vukica Vasic, noting that in this way makes the shift to hiring more people and improving the business climate locally.

Funds awarded through competition that called for the city this year, significantly higher than the one-off grants awarded by the National Employment Service.

03 October, 2012