Intense activity on expanding district heating network in the town of Pozarevac continued and the first construction contract on district heating network in the local community Cirikovac signed between the Mayor of Pozarevac Miodrag Milosavljevic, Director of the Public Enterprise "Toplifikacija" dr. Zvonimir Blagojevic and President of the Council of MZ Cirikovac, Jezdimir Ivic.
It is estimated that it will all work on finalizing heating of Cirikovac cost around 200 million dinars, which will heat gain more than 360 homes. Otherwise, as is known, is nearly completed heating of Klenovnik, during the construction of the network in the Friday, and it is now certain that it will soon begin work on the first stage of the first phase in Cirikovac.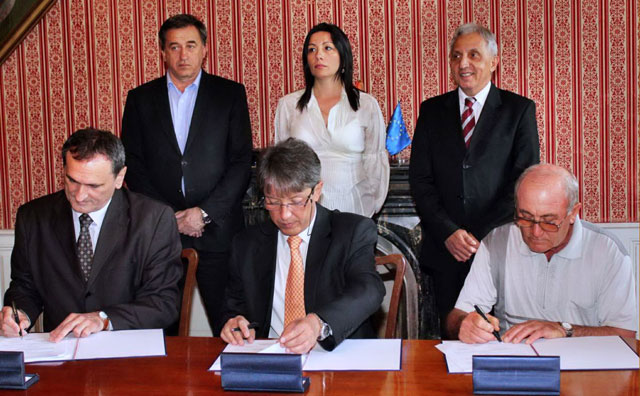 Director dr. Blagojevic said that the district heating network will be connected first school in the village, with the expectation that it will be completed by early next heating season, and added:
– As a service center, JP "Toplifikacija" this time and will do anything to get Cirikovac quality network, are respected all technical standards, regulations and state of the art network to conform to the strictest criteria. We will provide logistical support. We start with public procurement. Otherwise, near the town of Pozarevac as an investor, it is also the management of the Company "TE-KO Kostolac," the director Dragan Jovanovic, announced its participation in the following heating of Cirikovac, as they did in the Klenovnik. Then will follow in the annex to the agreement in Cirikovac and then we can talk more about the financial relationships ".
It is expected that the entire Cirikovac be heated for a year, not later than three, which will depend on the pace of arrival of the money, the mayor said Milosavljevic, adding:
– First of  two and a half years this went the same heating system of Klenovnik that ended two months ago . It is in the Petka. We hope the successful finalizing of the plan in Cirikovac. I would say that our Pozarevac is unique in Serbia in terms of intensive work on heating village, which is of great importance in the warm waters of the Company "TE-KO Kostolac" with which we expect a continuation of good cooperation in improving the living conditions of our citizens ".
President of the Council of MZ Cirikovac, Jezdimir Ivic said that this is of great importance for Cirikovac and added that in this village much changed in the last 5 – 6 years, with great help and support of the City.
The signing was attended by the Mayor of Pozarevac, Miomir Ilic, deputy mayor Vukica Vasic and Deputy Chairperson of the Assembly Milic Jovanovic.

04 May, 2012