Between representatives of the medical facilities Pozarevac Pharmacy, one of the most successful Serbian companies and multi-award winning the highest awards in the profession, union employees in the house and the town of Pozarevac signed collective agreement. The following have put a sign on this document: the mayor Miodrag Milosavljevic, Director Nebojsa Jorgovanovic and Union Chairman Malisa Berjanovic.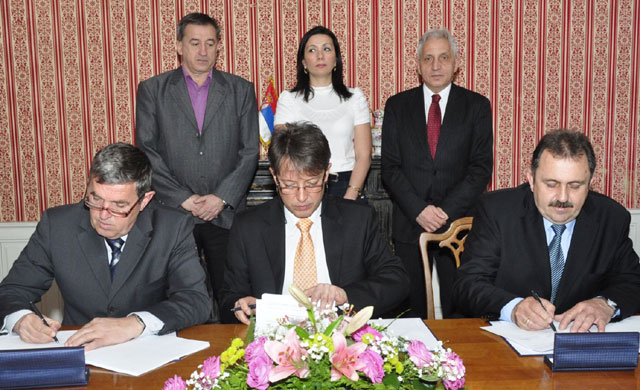 The signing was attended by the Mayor of Pozarevac Milomir Ilic, deputy mayor Vukica Vasic and Deputy Chairperson of the Assembly Milic Jovanovic.
– I am always pleased to underwrite a collective bargaining agreement, because it is one more standard for public sector employees. This is one of a number of collective agreements which have been signed, and I believe that in the next month will be another two or three on the agenda of the City Council, said Milosavljevic, echoing the now signed collective contracts.
He stated that the next meeting of the Council on the agenda will be a collective agreement with the Directorate for the construction of Pozarevac, and that in the preparation of contracts related to the "Toplifikacija", "Komunalno", "Vodovod" and the city government. By signing, the employee will clearly know their rights, responsibilities and obligations, and on the other hand, the contract provides broad opportunities to communicate directly realize what is important for an institution or company, and to the maximum efficiency, said Mayor.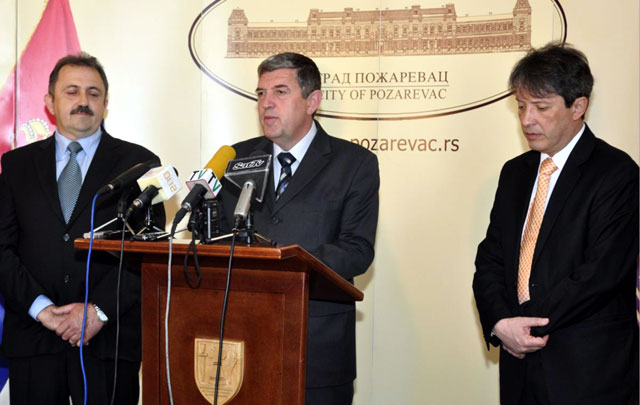 President of the Union Malisa Berjanovic expressed satisfaction over the signing of this contract and added:
– I think that the workers will be satisfied. The union and continue working to improve conditions of work, and I hope that workers of pharmacy will repay their work.
Health  institutions Pharmacy Pozarevac persist for years in legal, legislation, rights of employees, as well as the implementation of all applicable laws in their work. This particular collective agreement, which is the basis of the Special Collective Agreement in the application for two years, in an interview with the Union, we have come to additional improvements in worker rights. I am sure that our employees deserve this level agreement and that the employer will provide additional tools to motivate employees. We will try, even in these difficult times, to achieve even better results and that in the future be, as before, the institution that is proud of our city, said Nebojsa Jorgovanovic, expressing the expectation that the signing of the contract further contribute to improving the level of pharmaceutical services in the city.

31 March, 2012